Dongfeng Big Mac mine car
Price:Contact Us CC_junfeng@163.com
| | |
| --- | --- |
| Brand | DongFengJunFeng |
| Classification | Heavy vehicle |
| Body dimension (mm) | 8450*5100*4100 |
| Wheelbase (mm) | 4250 |
| Body structure | Steel structure |
| Mileage (km) | Hybrid power> 400KM |
| Type of battery | Lithium iron phosphate battery |
| Motor Power(KW) | 0 |
| Battery Capacity(KWh) | 80 |
| Charging period | |
| Highest Driving Speed | 69 |
| Acceleration Time(s) | 0 |
| Driving motor locatio | |
| Volume of trunk | |
| Type of transmission | |
| Curb weight | 55000KG |
| Warranty of vehicle | |
| Manufacturer | Dongfeng Motor Corporation (Junfeng OEM) |
Intended customers get the price via email. Email: CC_JFNFENG@163.com

Dongfeng Juba hybrid mining truck DF45E uses a mining truck chassis, with a length of 8.8 meters, a width of 5.1 meters, a height of 4.2 meters, a dead weight of 34 tons, a rated load of 45 tons, a maximum load of 60 tons, and a maximum Climbing up to 30% is a veritable "Big Mac". The vehicle uses two drive modes, hybrid and pure electric, with an efficient braking energy recovery system.
Core parameters:

Power: Hybrid, where: the engine is Cummins engine, the battery is loaded at 85 degrees, and the Sanyuanli battery

Maximum traction: 320KW

Transmission system: AMT 7th gear

Tire: 18: 00-25: 40PR

Standard compartment volume: 35 cubic meters

Economic load: 55000KG

Maximum climbing: 29%

Maximum speed: 69KM

Best applicable condition: heavy load downhill condition。
User scenario:The vehicle is used in Asia's largest lead-zinc mine, China's large iron mine, Wuhai mining area, and Xinjiang coal mine.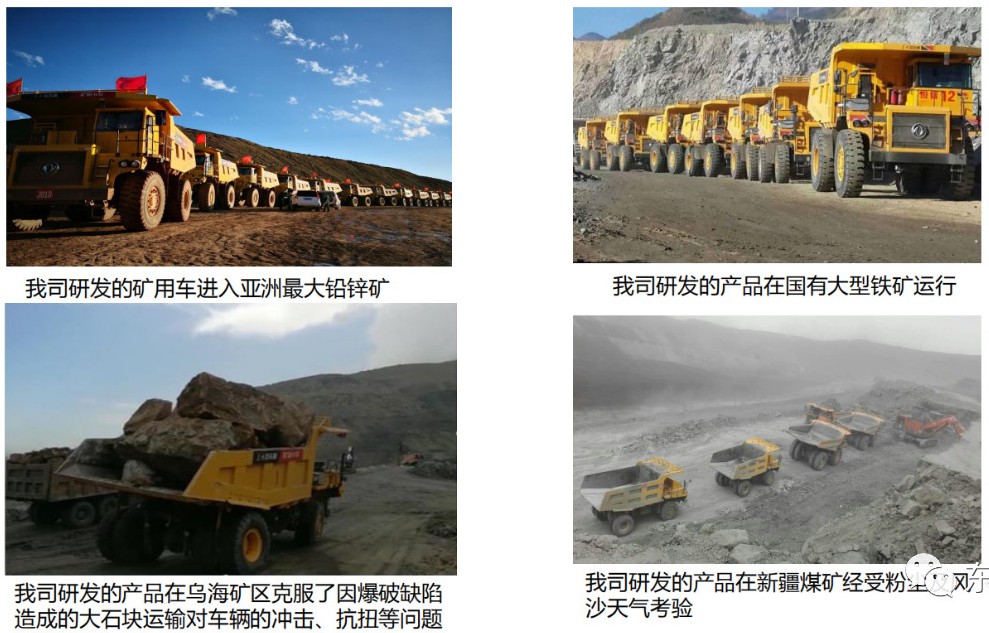 Core features:
Performance The fuel saving rate reaches 90%, the service life is increased by 3-4 times, and the attendance rate is increased by more than 30%
Suspension Adopt oil-gas suspension, adjust the shock absorption performance and load-bearing performance through variable nitrogen-to-oil ratio, and achieve rigidity and flexibility
Steering Full hydraulic steering, steering by controlling the hydraulic steering system, as easy as driving a car
Brake It has two sets of braking systems: main braking and auxiliary braking. More than 70% of braking is completed by auxiliary braking.
Improve safety and brake life
Transmission With AT, AMT, MT three different transmission methods to choose from
Power With two different power systems: diesel power and hybrid power
The main features of this car are the new super lithium battery with ultra-long life, ultra-high safety, ultra-large rate charge and discharge, and ultra-wide temperature range. According to statistics, under heavy load uphill conditions, the DF45E hybrid mining vehicle saves 50% to 70% of fuel compared with traditional mining vehicles; under heavy load downhill conditions, the braking energy recovery system can achieve Rely on pure electric drive mode for high intensity operation.

Statistics show that for a long time, vehicle fuel consumption costs accounted for 60-80% of mining logistics transportation costs. Therefore, significantly reducing the fuel costs of mining vehicles is the key to controlling transportation operation costs for mining companies.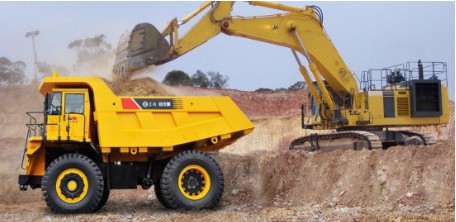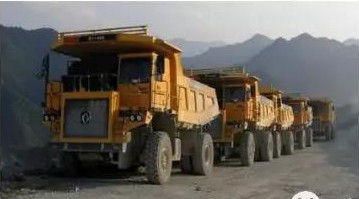 Its appearance fills the gap of global new energy mining vehicles. The highly efficient fuel-saving characteristics of the entire vehicle will greatly reduce carbon dioxide emissions, which is of significant positive significance for the mine transportation industry to break through the siege, transform and upgrade and promote the construction of 'green mines' .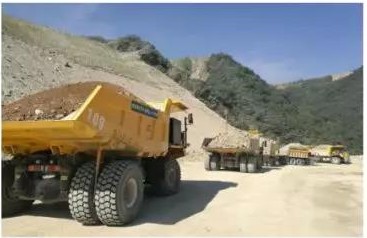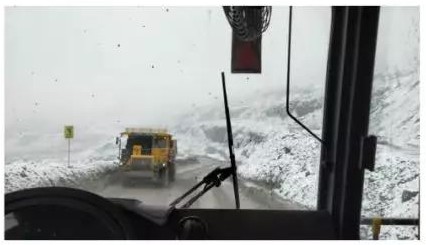 Engine fuel saving principle
Engine fuel-saving principle ◆ Starting: The engine does not work, only the electric motor uses its characteristics of low speed and large torque to start the vehicle alone.
◆ Uphill: The engine-driven generator and battery supply power to the traction motor to drive the vehicle.
◆ Downhill: When the engine is off and the vehicle is not working, the vehicle's downhill energy drives the motor to generate electricity and charge the battery. The motor also slows down the vehicle.
◆ Uniform speed: The engine works in the economic fuel consumption area. When the engine output power is greater than the power required by the vehicle, the excess power drives the generator to charge the battery.
◆ Acceleration: The motor works to drive the vehicle with maximum power, and the engine provides some power to assist the vehicle to accelerate.
◆ Deceleration: The engine is not working and the braking force is driven
The motor generates electricity and charges the battery.

Intelligent control safe and reliable
Intelligent control Safe and reliable ◆ Energy management: engine start and stop, battery charging and discharging, traction motor traction and recovery of energy are automatically controlled according to the vehicle status.
◆ Driving Management: Driving and braking are issued by electronic pedals, and the driving system and braking system respond accordingly.
◆ Diagnosis management: The working status of the power system continuously transmits data to the background through wireless transmission, which can realize remote diagnosis and control.
◆ Safety management: When the environment and other conditions do not meet the working requirements of the main components of the vehicle, there will be an alarm or direct order to stop the vehicle.

No cost of acquisition
No cost to purchase ◆ According to the results of our comparative test, under heavy load uphill conditions, work at full load and complete the same transportation volume, the fuel consumption of DF45E new energy mining vehicles is only about 30% of traditional fuel vehicles.
◆ You can purchase a DF45E new energy mine truck for the three years of saved fuel money.
◆ Provide financial leasing support. The financing cost is equivalent to the saved fuel cost. There is no high investment burden for using high-end vehicles.
Zh
Centralized lubrication system
Centralized lubrication system ◆ The so-called centralized lubrication system refers to a system that accurately supplies the required amount of lubricating grease to multiple lubrication points from one lubricating grease supply source.

Wireless tire pressure monitoring system
Wireless tire pressure monitoring system ◆ The wireless tire pressure monitoring system is currently the only device that can effectively provide tire pressure and tire temperature monitoring at any time. It can monitor tire temperature and pressure changes at any time. If any abnormal situation occurs, it will send an exception through the receiving host. Warning, ensure that the tire is always running under reasonable pressure and temperature conditions to reduce fuel consumption and increase tire life.
◆ Under the condition of insufficient tire pressure, it is easy to increase the wear of the tire, thereby reducing the life and increasing the chance of puncture. Excessive tire pressure will reduce tire grip. Every 3PSI reduction in tire pressure increases fuel consumption by more than 1%. It is generally believed that a 25% increase in tire pressure reduces a 15-20% tire life date and a 25% decrease in tire pressure reduces a 30% tire life date. The higher the temperature of the vehicle tire, the lower the strength of the tire, the greater the deformation, the tire wear will increase, and the life will decrease.

Self-test air filter
Self-testing air filter ◆ Flega air filter, which is a joint venture between Dongfeng Company and American Friga Company, and imported Tebo pre-filter, are used. The perfect combination of the two can make the intake air cleanliness of the engine reach 99.9%, plus the intake resistance The alarm can prompt the owner to maintain the air filter at the first time, which can reduce unnecessary maintenance, improve efficiency and increase the service life of the filter element.

Mining trucks are available in the following optional configurations:
◆ Car wear-resistant lining ◆ Enhanced car ◆ Electric seat ◆ Coldproof curtain ◆ Stackable extension anti-spill rail ◆ Fuel preheating ◆ Centralized lubrication ◆ Tire pressure monitoring ◆ Self-test air filter