Recently, as Dongfeng's high-end new energy vehicle, Lantu FREE started from Wuhan and officially started a 40,000-kilometer uninterrupted long-term test trip. The Lantu FREE fleet will pass through 9 provinces and regions including Jiangxi, Zhejiang, Guangdong, Guangxi, Sichuan, Gansu, Xinjiang, Tibet and Yunnan, passing through 13 cities including Jiaxing, Ruijin, Jinggangshan, Ya'an, Zhangye, Turpan, Golmud, and Lhasa. 140 days.
The Lantu FREE fleet will not only go through complex road conditions such as highways, national highways, provincial highways, urban and rural roads, and a variety of non-paved roads, but also face complex areas such as hills and rainforests, desert Gobi, plateau mountains, and more likely to encounter sand, dust, and heavy rain. And other extreme climatic environments. The harsh conditions will test the quality of Lantu FREE's products, and at the same time, it can truly restore the user's daily commuting, intercity travel and long-distance travel and other car scenarios, eliminating users' anxiety about using electric vehicles.
It is reported that the Lantu FREE 40,000-km long test tour is divided into three stages: In the first stage, the Lantu FREE fleet departs from Ruijin to Chengdu, passing through red cities such as Jinggangshan, Zunyi, and Chishui, and then re-takes the Long March Road and crosses along the way. Mountains, hills, jungles, grasslands, swamps and other complex terrains have shown their confidence in quality during the journey. During this period, high temperature and humidity tests will be carried out in Xishuangbanna. In the second stage, the Lantu FREE fleet will depart from Xi'an and head northwest through Zhangye, Jiuquan, Horgos, and Altay to Dunhuang. It will conduct multi-road driving in the Gobi and desert regions of Xinjiang to verify product durability. To strengthen the high performance of the product, high temperature durability tests will be carried out in Turpan on the way to check the safety of the battery. In the third stage, the Lantu FREE team will start from Dunhuang and climb the Qinghai-Tibet Plateau bravely all the way through Golmud, Yushu, Bomi and Lhasa, and finally arrive in Deqin. Plateau tests will be carried out in Golmud along the way to verify Lantu FREE. The adaptability and reliability of the "three electricity" system in the high-cold and hypoxic environment. After the completion of the three phases of testing, Lantu FREE will return to Wuhan and make improvements based on the latest test results to quickly promote product iterative upgrades.
At the launch ceremony, Lu Fang, CEO of Lantu Motors, said: "Adhering to the commitment to user experience and safety, Lantu Motors takes quality and safety as the first principle and is committed to providing users with high-quality electric vehicles. We dare to use Lantu. The 40,000-kilometer test conducted by TuFREE is not only due to the excellent product quality of Landu FREE and the strong technical confidence of Landu Auto, but also from the user-centered concept. To achieve high-quality delivery, Landu FREE is on the market. Several rounds of rigorous testing will be carried out before; even after delivery, limit tests will continue to be carried out to continuously improve the user experience."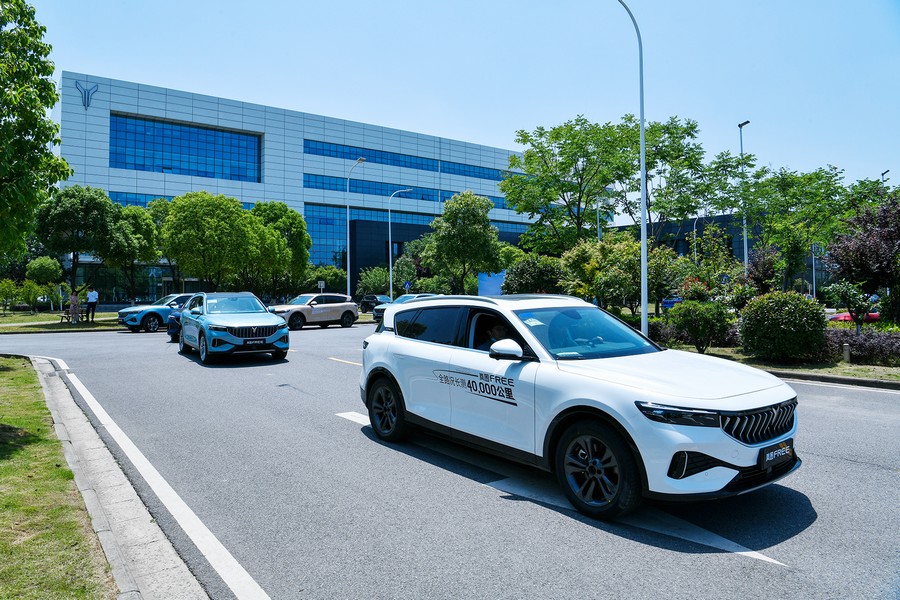 Lantu FREE has previously carried out a series of rigorous tests such as three high (high temperature, plateau, and high cold) tests, corrosion resistance tests, road strengthening durability tests, NVH tests and battery packs. The whole journey exceeds 3 million kilometers, and the vehicle has undergone 1,000 types. Road conditions and extreme environmental tests such as minus 40°C and high temperature 50°C. At present, Lantu FREE has entered the stage of mass trial production and will be delivered in the third quarter of this year. (Xia Wu)